OTT Remit, an international remittance service provider, announced its partnership with 44 Hoops, a community organization that empowers Toronto area youth to thrive through athletics and education.
Supporting Families Abroad and Local Youth
Basketball is an important part of Filipino culture and Filipinos rely on remittance services to send money to their families across the globe. Now, every time users of OTT Remit send money to support their family and friends back home, they can make a difference to aspiring young athletes in their Canadian communities as well. With every completed transaction that uses the referral code, "44Hoops," OTT Remit will donate $3 to support the initiatives of 44 Hoops, a charity organization that helps kids thrive through tutoring and sports training.
The partnership makes a positive social impact and aligns with OTT Remit's values and commitment to giving back to the communities it serves. 
The programs run by 44 Hoops – from basketball clinics, to online tutoring – help students and athletes build resilience and confidence and create new opportunities. 
Payments with a Purpose
OTT Remit provides a fast, simple, secure, and convenient way of transferring money to loved ones abroad. Every transaction earns points redeemable for fee-free transactions and other rewards. The partnership between OTT Remit and 44 Hoops brings people together, supports connections, and builds a bright future for youth, on and off the court.
Use OTT Remit to send money and $3 will be donated to 44 Hoops with every successful transaction. 
About 44 Hoops
Founded in 2014, 44 Hoops is an education and sports community charity started by professional basketball player Andrew Nicholson. Supporting and serving youth in Peel Region through basketball camps, virtual tutoring programs, and leadership, the organization has supported 1,200 youth thrive through educational, physical, and mental wellness training, and community service.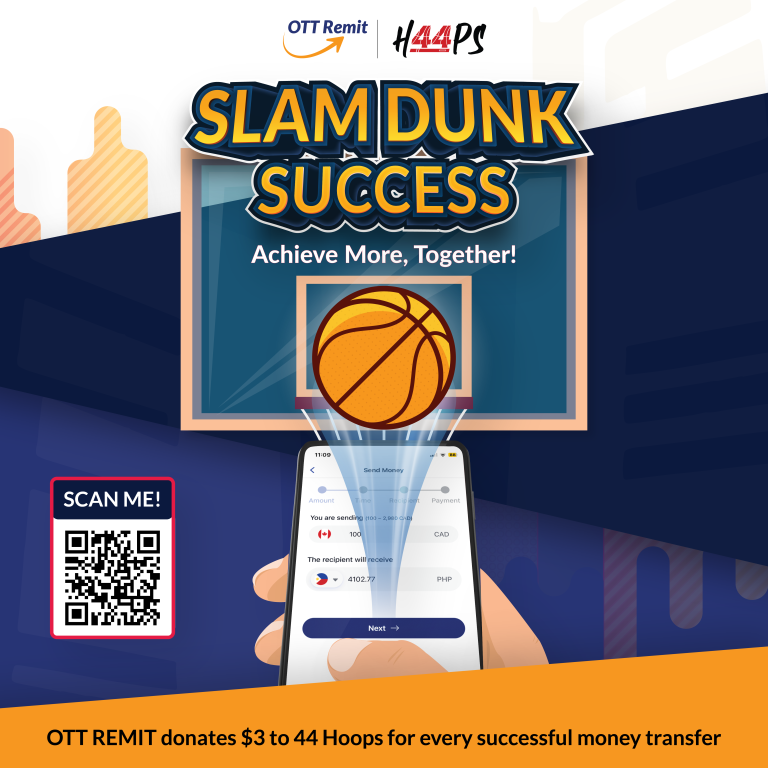 Disclaimer: The views and opinions expressed by the authors in this publication are their own and do not necessarily reflect the views of OTT Remit, OTT Financial Inc., and the OTT Group of Companies. This publication is provided for general information purposes only and should not be considered as exhaustive or comprehensive in covering all aspects of the discussed topics. It is not intended to replace seeking advice from a specialist or professional.