OTT Remit, an international remittance services provider, and LBC, the leading cargo and courier service in Canada, have entered a new partnership that's making Filipinos living and working abroad feel closer to loved ones back home.
OTT Remit's new money transfer solution offers rewards redeemable for courier services with LBC Canada. The partnership makes it easy for people to provide financial support, send gifts, and maintain strong connections with family and friends abroad.
A rewards programs that connects people
Sending money internationally to support friends and family is an act of love. When those remittances earn valuable points to spend on new purchases, the transfer becomes its own reward.
For the Filipino diaspora, the tradition of putting together and sending special care packages, called balikbayan boxes, at holidays or any time of year, helps people feel closer to parents, children, and siblings. The partnership between OTT Remit and LBC now makes it easier and cost-effective to send gifts of love when senders feel the need to connect and when relatives need them most.
Earn rewards by providing financial support 
After downloading OTT Remit, senders earn points every time they transfer money. Points can then be used to redeem rewards, including e-discount cards to use for sea or air cargo services through LBC. Senders can claim a $10 e-discount card after earning 1900 points and a $20 e-discount card with 3700 points. OTT Remit offers a more rewarding way to send money. 
About LBC Express
LBC is the leading retail and corporate courier, cargo, and logistics services provider in the Philippines. Founded in 1945, LBC operates a global network with 6400 branches and hubs worldwide in 30 countries. Listed on the Philippine Stock Exchange as LBC Express Holdings, Inc., and specializing in 24-hour door to door delivery, LBC is the most highly trusted logistics company of Filipinos around the world. To learn more about LBC, visit www.lbcexpress.com.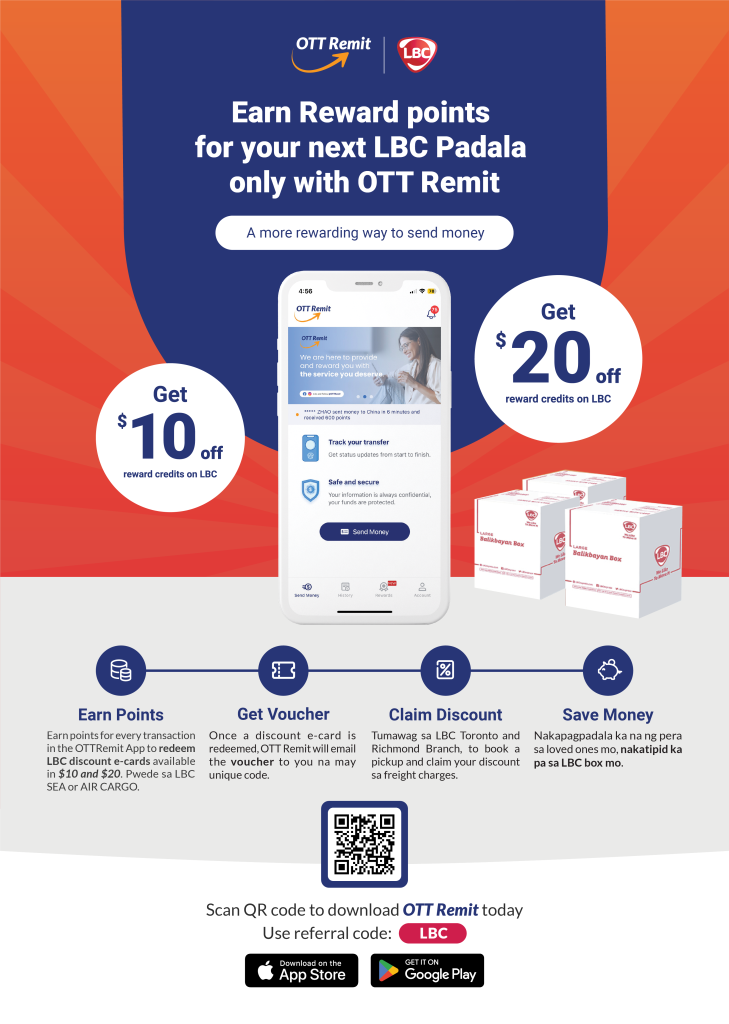 Disclaimer: The views and opinions expressed by the authors in this publication are their own and do not necessarily reflect the views of OTT Remit, OTT Financial Inc., and the OTT Group of Companies. This publication is provided for general information purposes only and should not be considered as exhaustive or comprehensive in covering all aspects of the discussed topics. It is not intended to replace seeking advice from a specialist or professional.